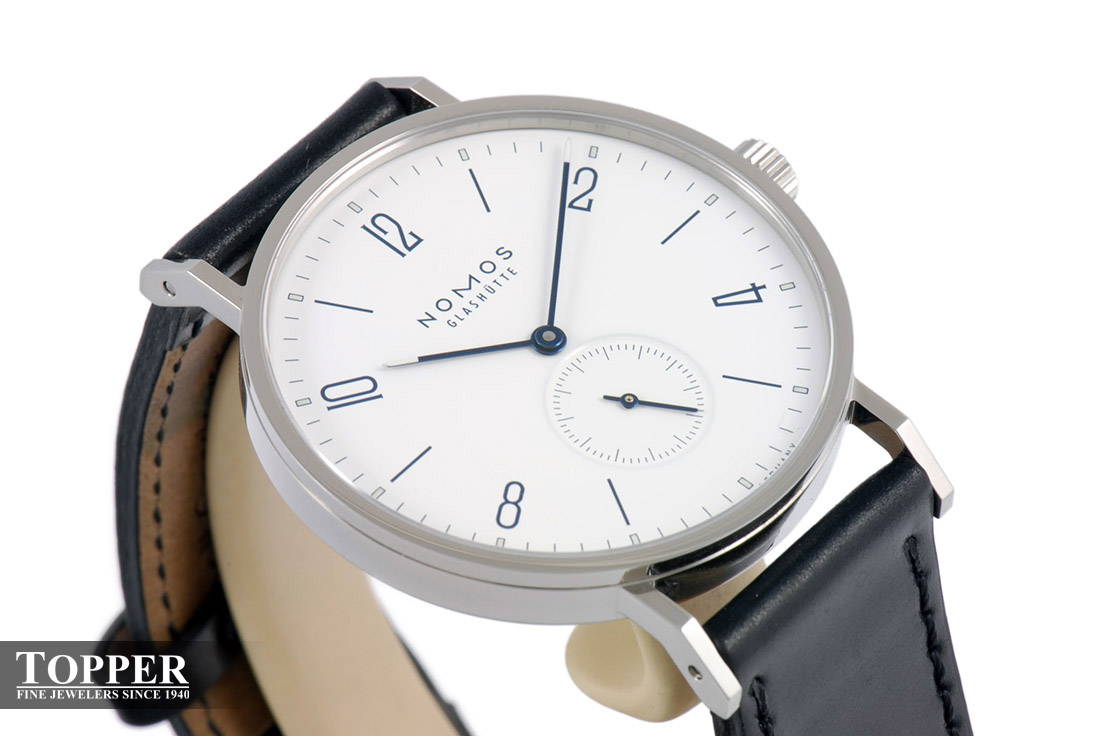 The Nomos Glashütte Tangente 38 for Topper Fine Jewelers 75th Anniversary is here! Unlike most watches we write about where we interpret the design intentions of the manufacturer, this piece came about as a collaborative design effort between me, my brother Russ, and the design team at Nomos. The idea for the Topper Nomos was born at Baselworld 2015, when we asked them if they'd be interested in helping us create a timepiece that celebrated the 75th anniversary of our store. We were thrilled at how they enthusiastically embraced the project, and how interactive the design collaboration was as we bounced ideas off each other over the following months. The end result, which we are sharing actual pictures of for the first time in this article, is a piece that features a new color palette and dial finish for a Nomos Glashütte timepiece, their first non date manual wind watch with the Swing System, a lume signature unlike any watch in their existing collection, and a subtle celebration of our anniversary. Below is a description of how this unique 38mm piece differs from the standard Nomos Glashütte Tangente 38.
The dial color came out of the realization that Nomos doesn't really have any white watches in their current collection. If you look carefully at the light colored models of the Orion, Ahoi, Tangente, Metro, Zurich, and Ludwig, they all feature the same signature Nomos color which has a rather deep silver cast to it. Russ and I considered how some of our favorite watches combined blued hands with a white dial to beautiful effect. Nomos already had the striking heat blued hands, and creating a piece with a dial that was closer to white would provide a unique option. Aside from the color, we thought lacquer would work very well and make the watch look slightly more formal. To accentuate the heat blued hands (more on those later) and to not have too much contrast between the dial and the indices, the markers are a dark blue instead of black.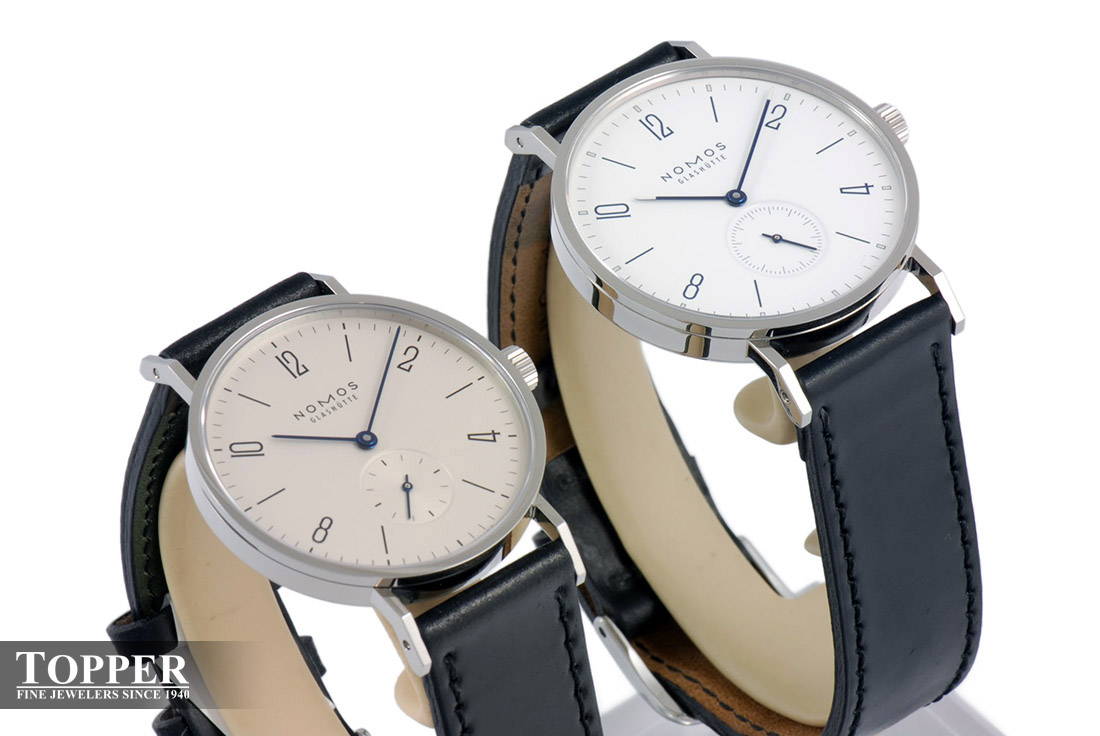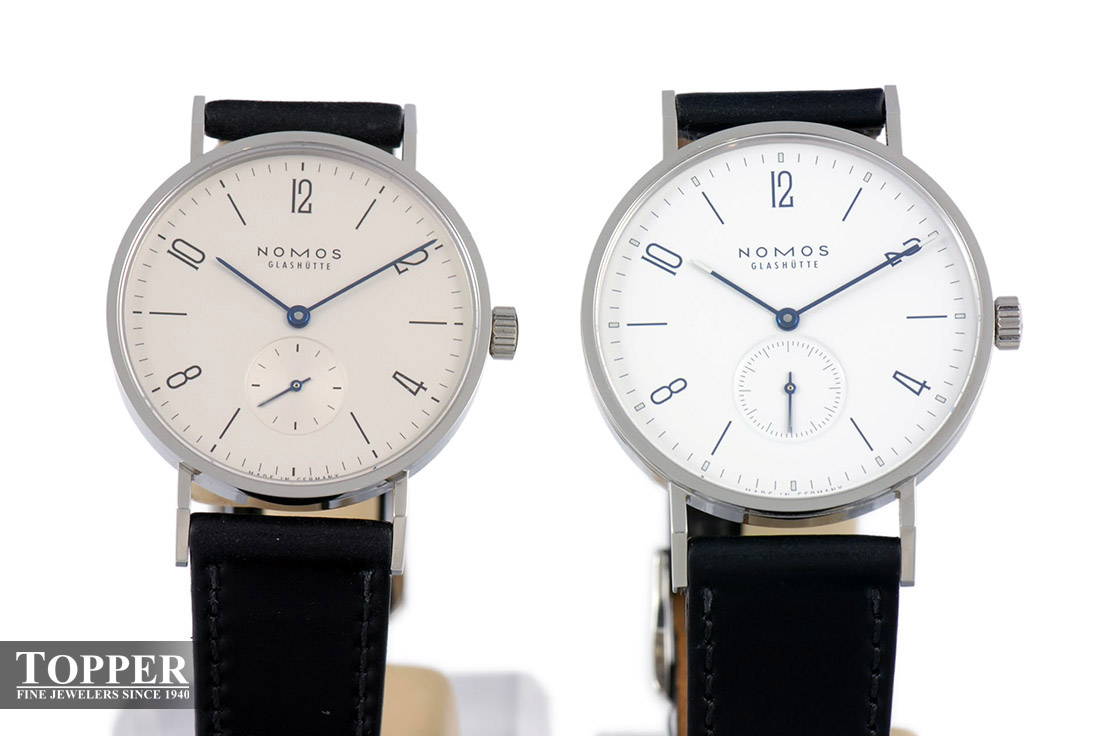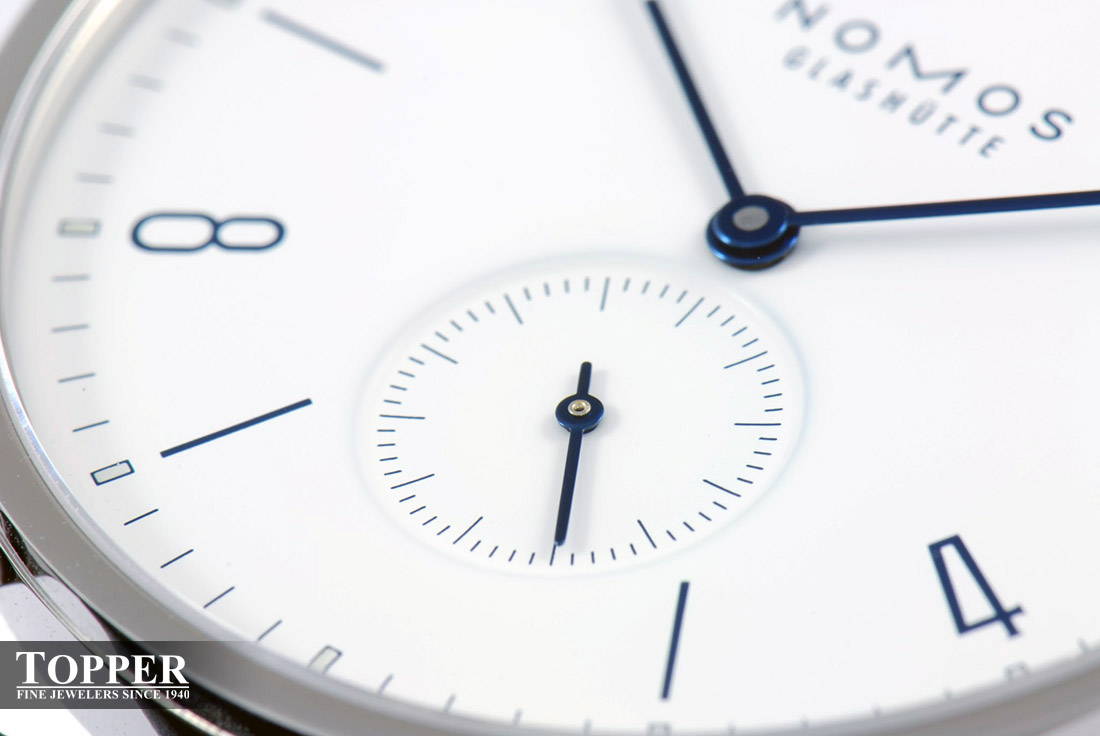 Blued Hands with Lume Tips
Since the Tangente Sport was discontinued several years ago, there hasn't been a Nomos watch with lumed blue hands. In fact, the number of Nomos watches that use lume at all is a very short list: the Club Automat Datum Dunkel, and the Ahoi models. All of these pieces feature "steel" colored hands with long lume strips. The last time blued hands appeared on a Nomos was the much sportier Tangente Sport. In that piece, the hand shape was very similar to the current Ahoi hands. While these hands look good with the Tangente Sport's heavier dial font, and even more sporty silver tone, it seemed too heavy to pair with a lacquer dial. In addition, the strip of lume conceals the pop of the heat blued hands. After some research, Nomos came up with the solution of dipping the tips in lume. This made the lume signature more minimalist, and provided our piece with a unique and appealing feature.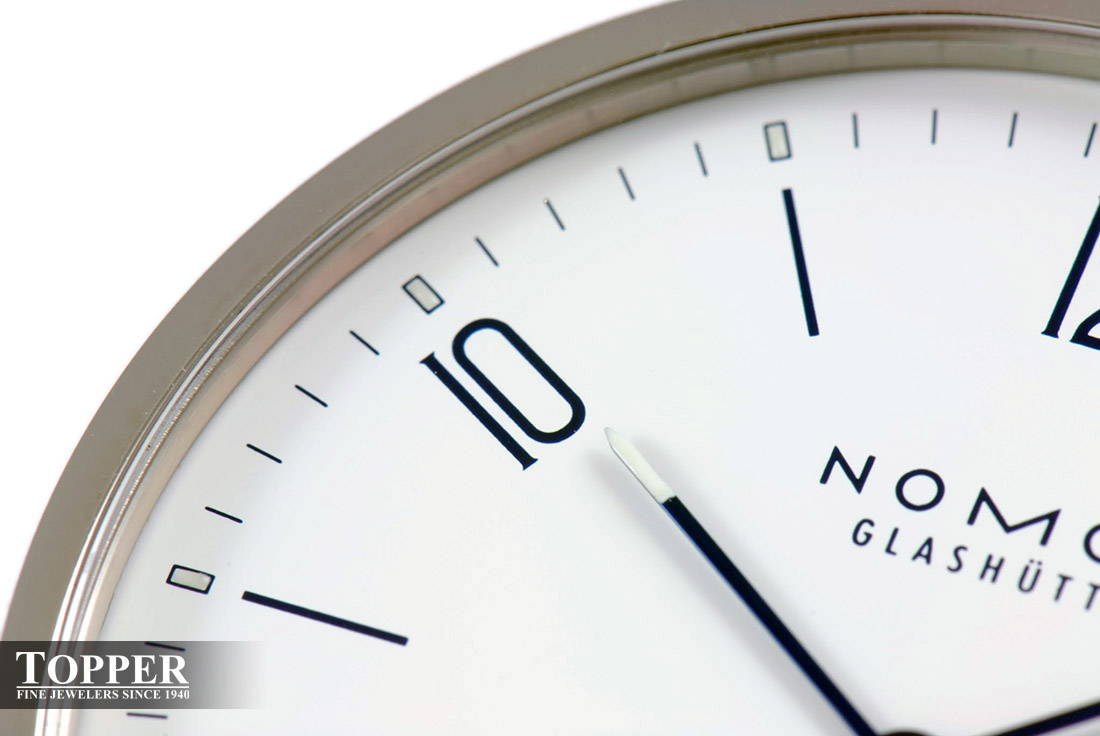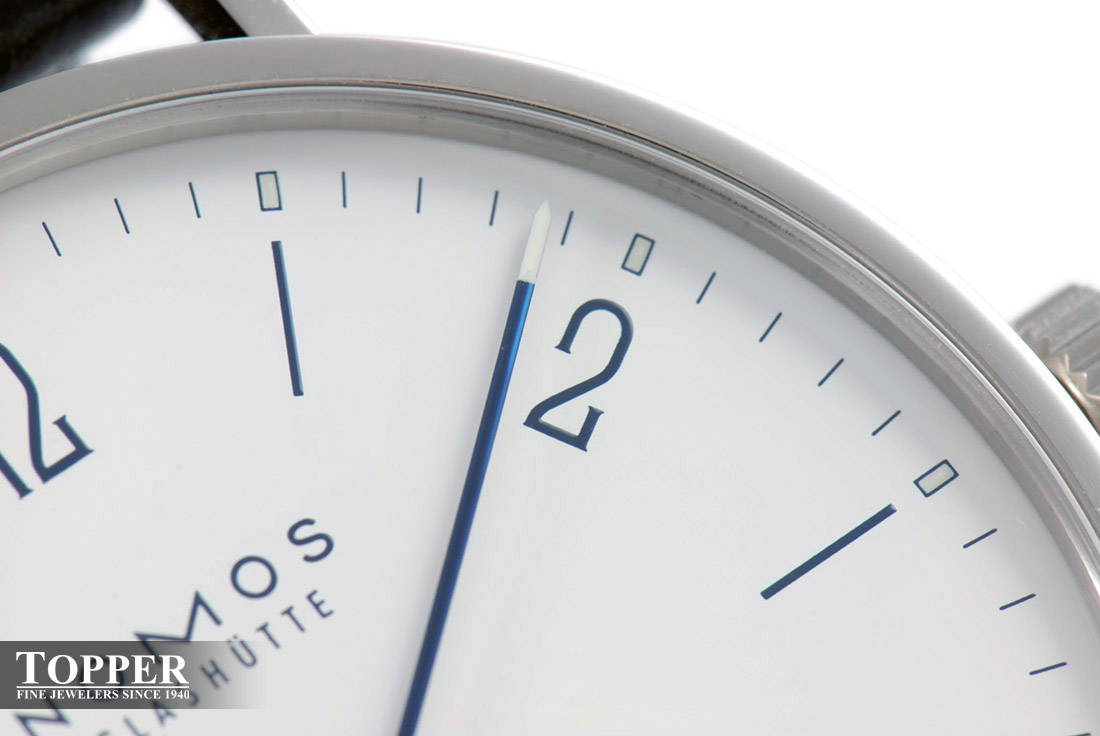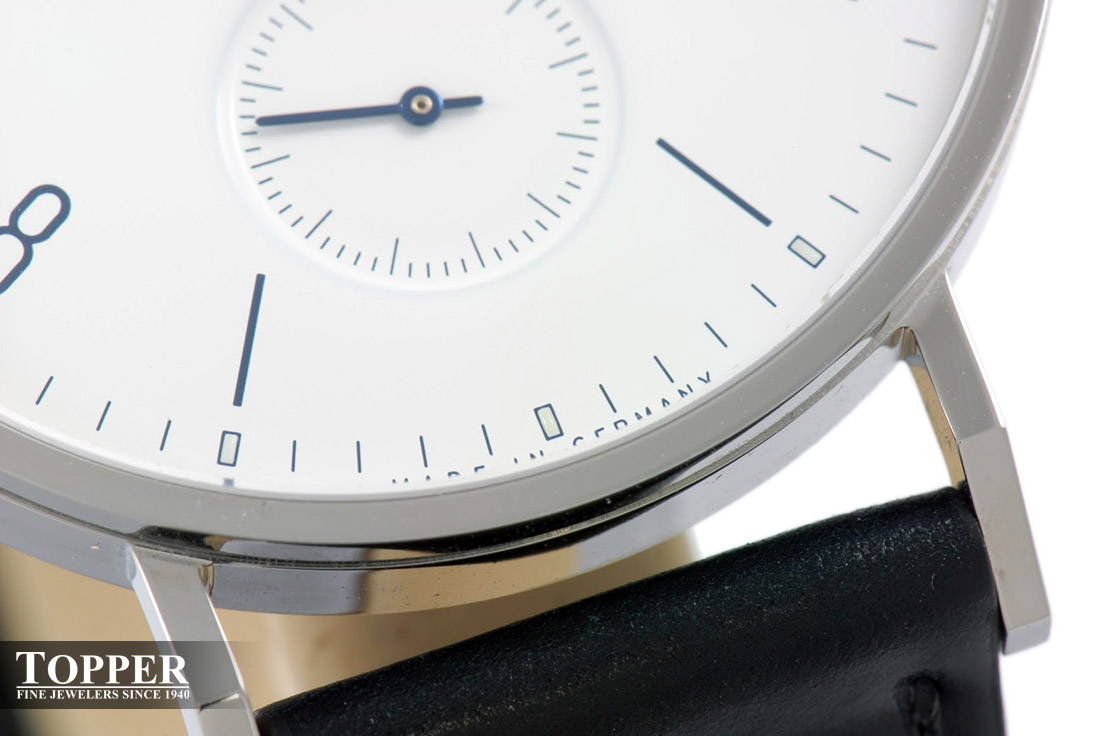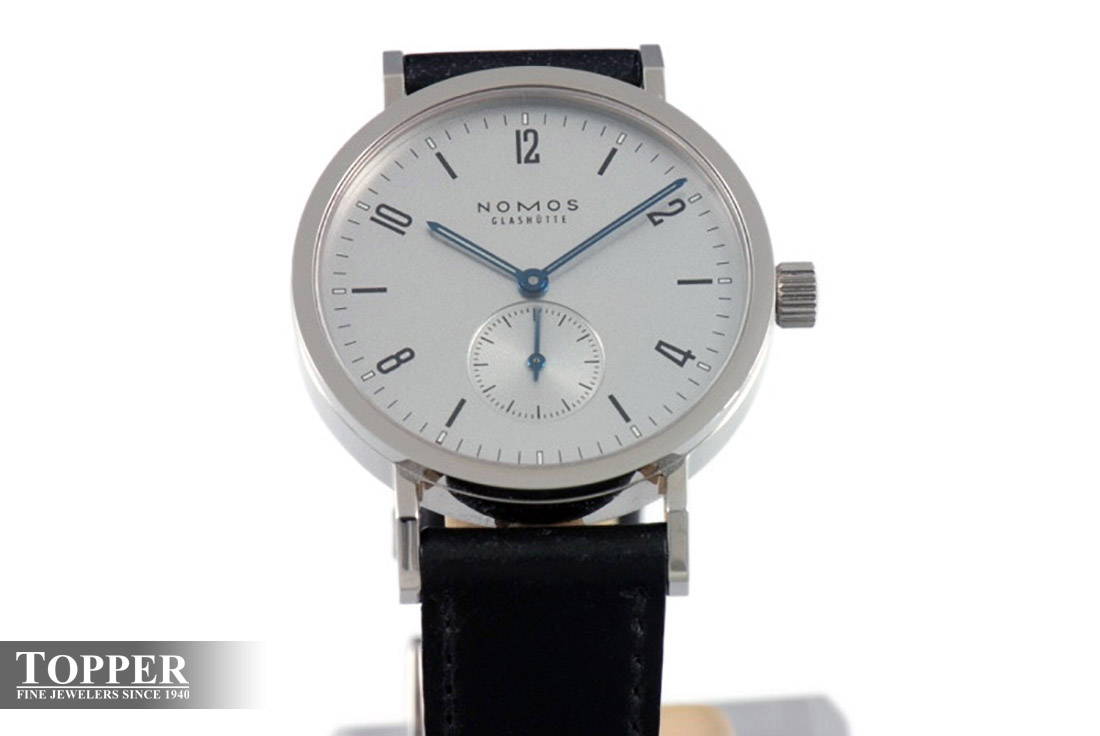 What we love most about Nomos Glashütte is the subtlety and simplicity of the brand's Bauhaus-inspired watch designs. We wanted this special edition to refer to our 75th anniversary, but in an understated fashion that would not distract from the simple elegance of the watch. Accordingly, we asked Nomos Glashütte to make the lume on two of the hour indices (at 7 and 5) a blue Superluminova and all the other indices in green. When we presented this concept to Nomos Glashütte, they loved the idea and described it as "very Nomos." Now that we have seen the final product, we are very happy with how Nomos executed the lume. The lume color difference is apparent at full charge, nearly imperceptible at low charge, and not at all noticeable in full light.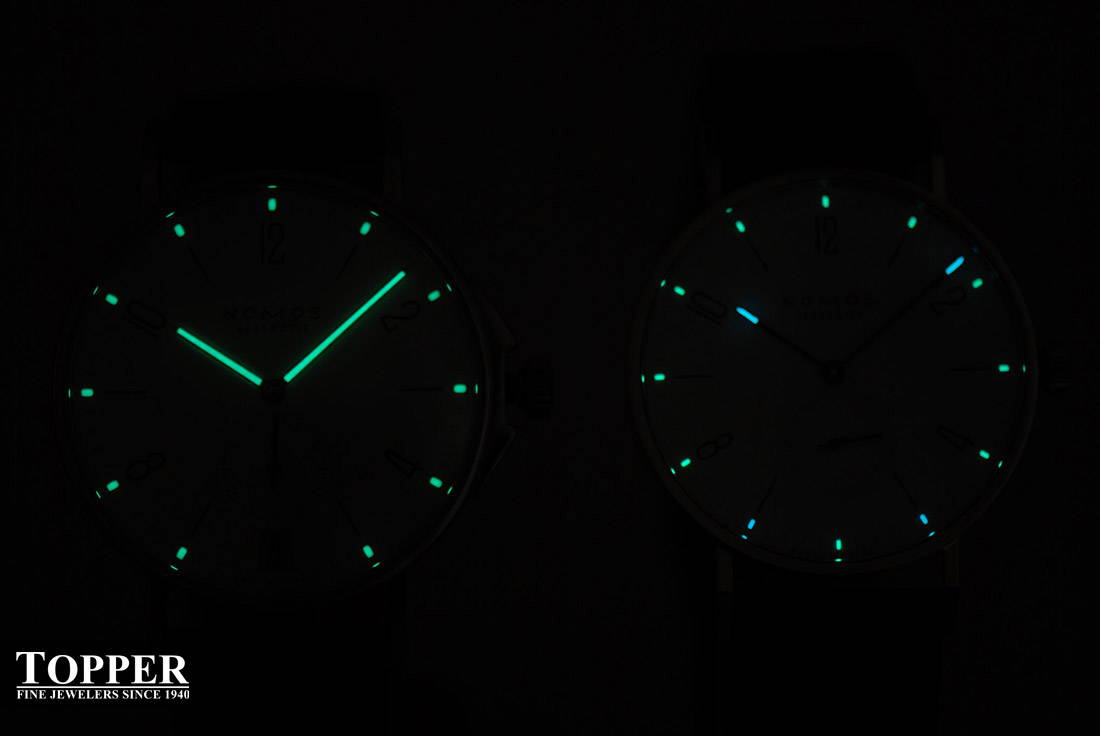 Mechanically, this watch is the first Nomos Glashütte to be released featuring an "Alpha" Calibre and the Swing System. The Swing System is Nomos Glashütte's own manufactured "balance complete" (the regulating system of the hairspring, balance wheel, and pallet fork). It is a symbol of both Nomos Glashütte's commitment to precision and their independence. Nomos Glashütte estimates their classic Alpha calibre to be 83% "in house". With the addition of the Swing System, it jumps to 95%.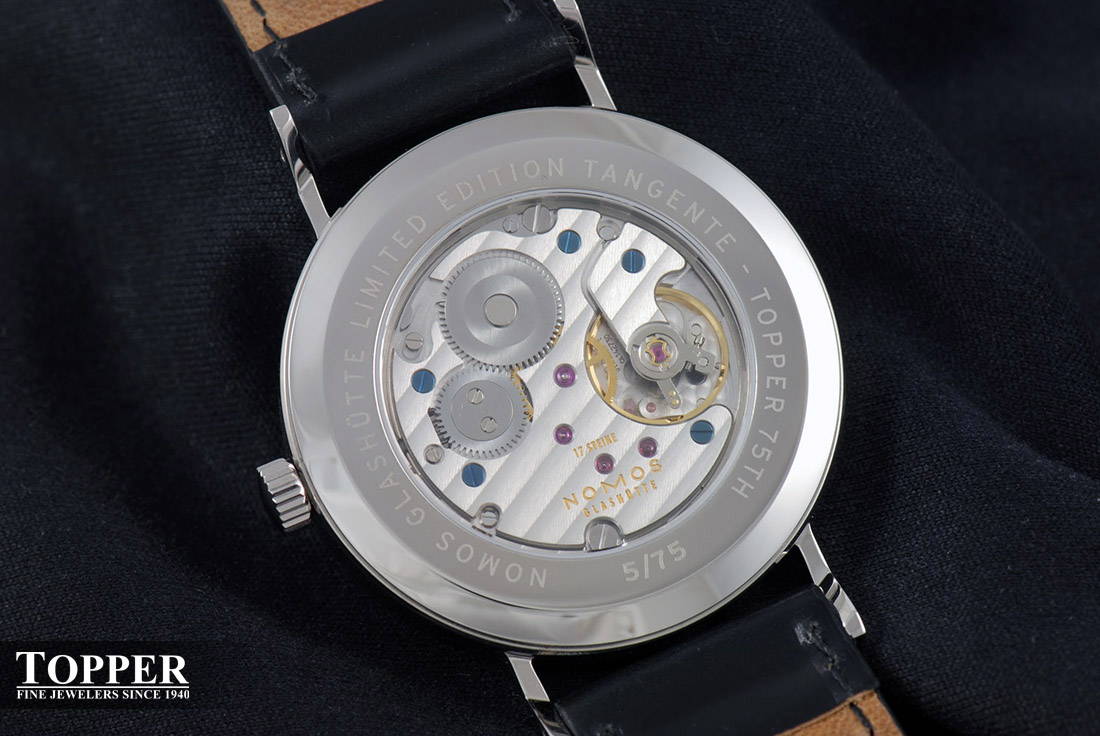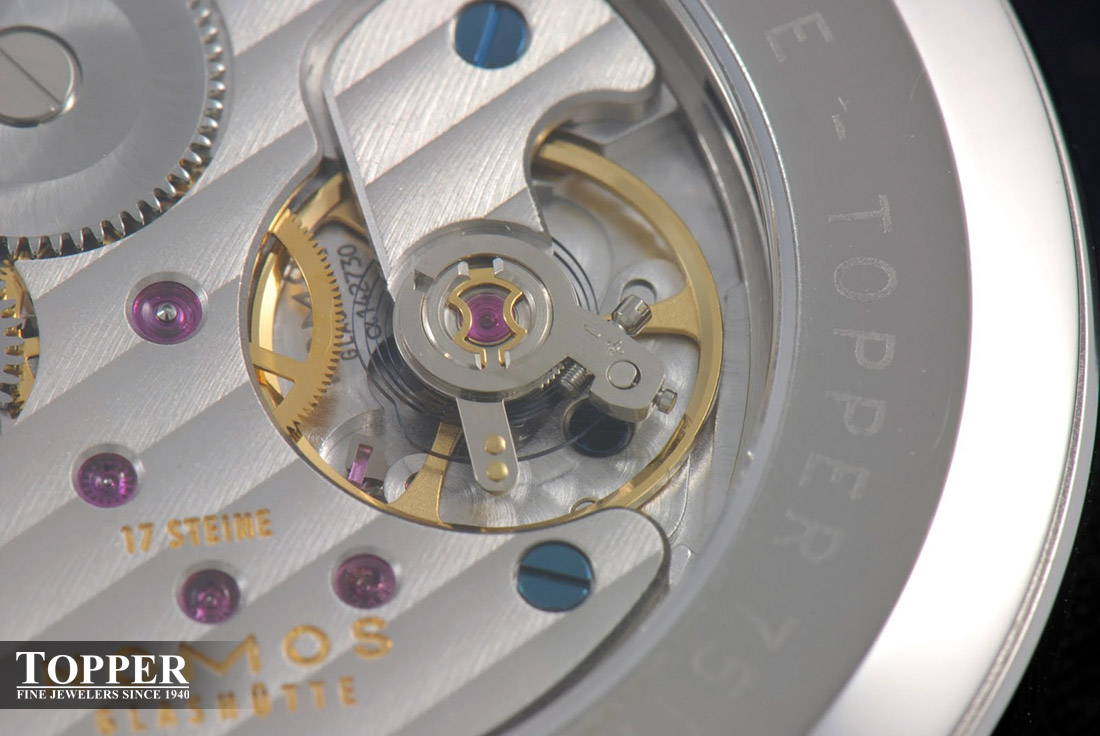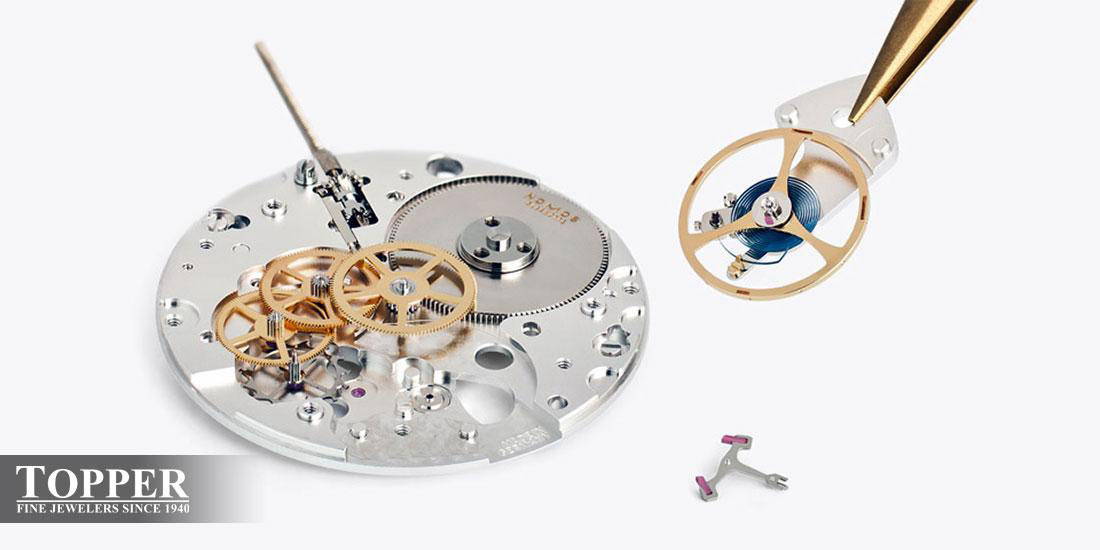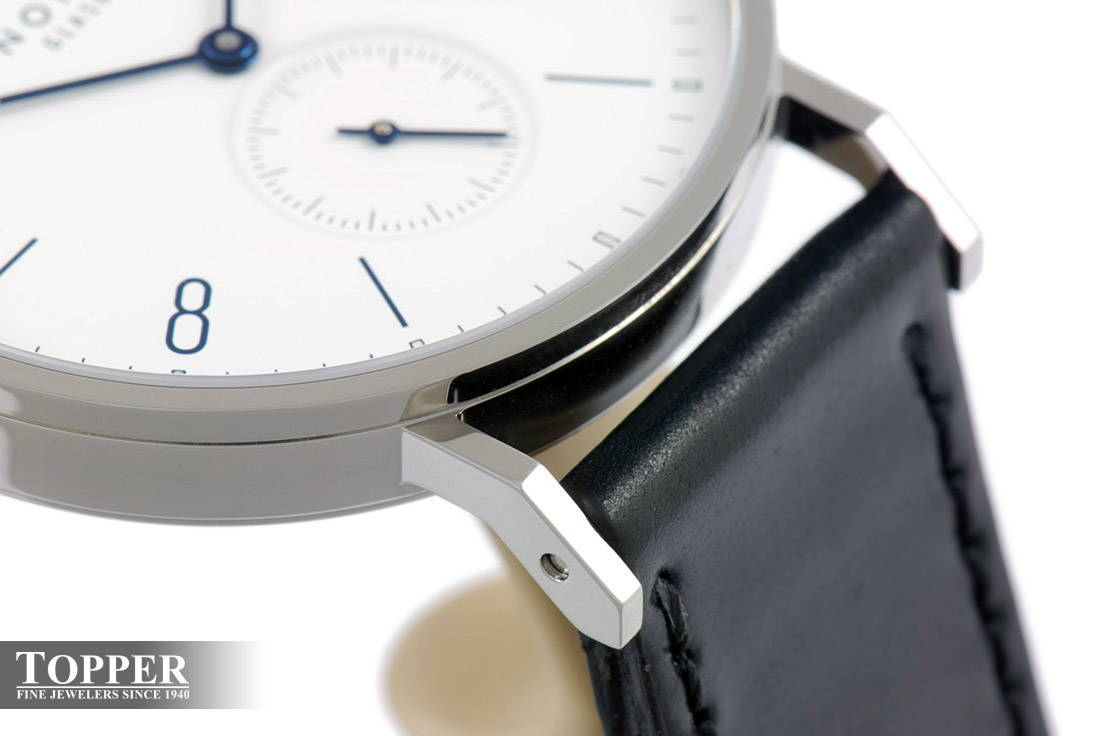 Topper Fine Jewelers and Nomos Glashütte are each donating 75 dollars from the sale of each watch to the UCSF Stephen and Nancy Grand Multiple Myeloma Translational Initiative (MMTI) at the UCSF Helen Diller Family Comprehensive Cancer Center. This charity has particular importance to our family as our father, Bill Caplan, was treated at UCSF for a form of cancer called Multiple Myeloma. We believe the excellent care he received there greatly enhanced the quality of his life. It is also a world class research facility providing patients access to new drugs as they become available, and helping determine which medications will be available at medical facilities across the country. For more information, click here for A Look at Multiple Myeloma with UCSF's Dr. Jeffrey L. Wolf.
Availability and Strap options
We expect the first forty of our special edition to arrive this week! About half of the first 40 are pre-sold. Number 41-60 were scheduled to arrive in February, but it's looking like they may be available sooner. Watches 61-75 are scheduled for delivery in April. If no strap request is made, the watch will come on a regular length black Nomos Strap. We will do our best to honor all limited edition number and specific strap requests.
The Nomos Glashütte Tangente 38 for Topper Fine Jewelers is available for $2,700