A Look Back at Topper Edition Timepieces
Posted on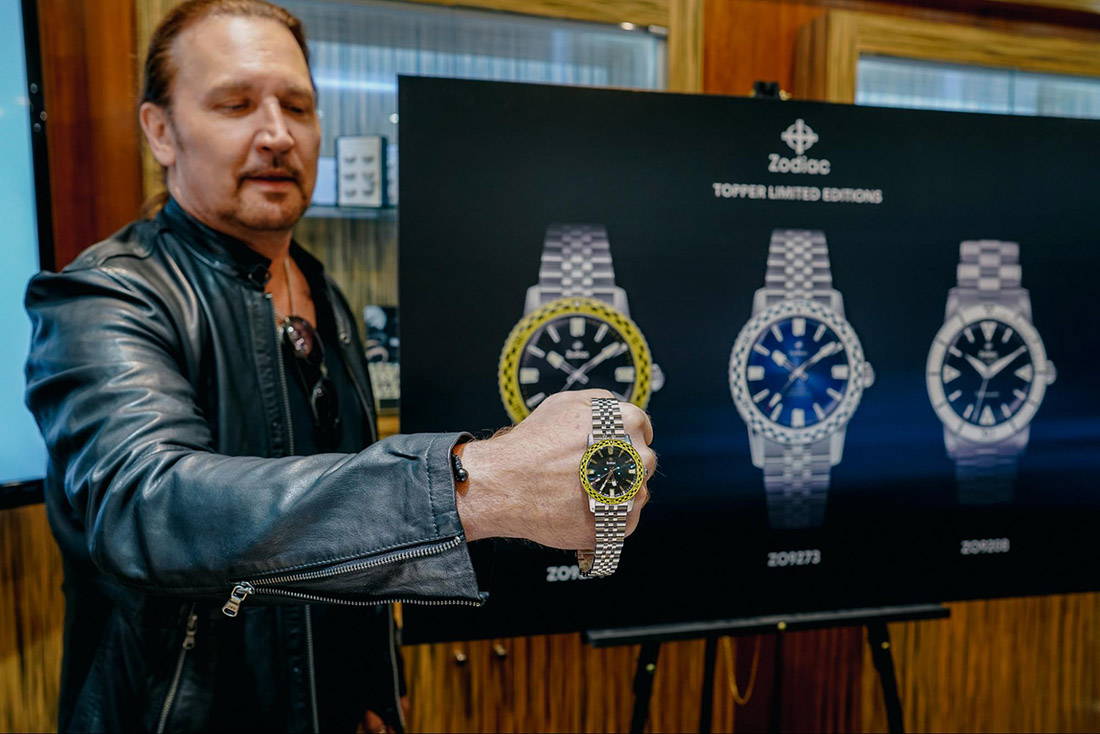 Kiss's Eric Singer Presenting the Zodiac Limited Edition Series II
It's an exciting time at Topper as we are delivering our latest Topper Editions as we speak. We thought it was time to take a look back at each of the Topper Edition watches that we've produced since we first began the tradition in 2015 when the store was celebrating its 75th anniversary. Here is our updated look at each of the Topper Jewelers Limited Editions that have been announced so far.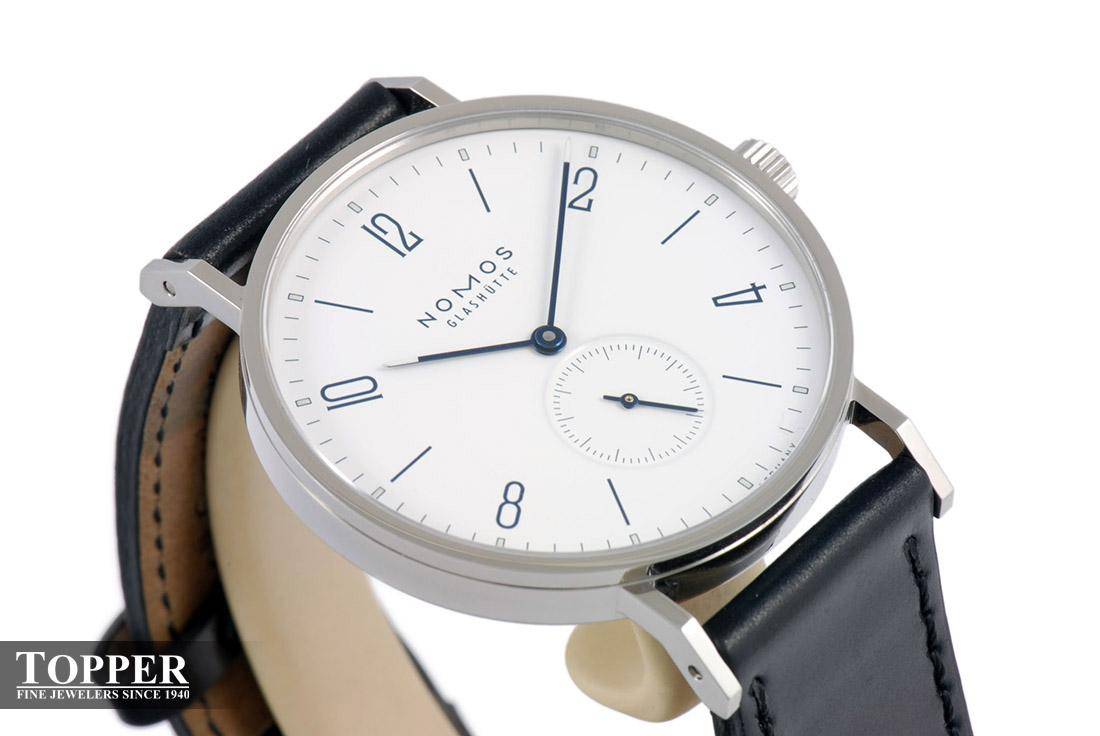 Nomos Glashütte Tangente Topper Edition
What Makes It Unique:
Introduced in 2015
Limited to 75 pieces (sold out)
Unique deep white lacquer dial & lume signature, first hand-wound, no-date Nomos Glashütte with Swing System.
A portion of the proceeds from each watch went to the UCSF Helen Diller Family Comprehensive Cancer Center.
The "Topper Tangente" was a unique version of the 38mm Tangente. In addition to being our first limited edition, it was also a first for Nomos, being their first hand-wound, no-date watch that featured their then-new Swing System escapement. More importantly, the watch exhibited a fresh twist on one of our favorite (now-discontinued) Nomos watches: the Tangente Sport. Brought to life in collaboration between myself, my brother Russ, and the design team at Nomos, we married some of the key elements of the Sport (particularly the lume points). While "the Sport" was more casual than the standard Tangente, our watch brought out some more formal elements: a deep white lacquer dial with blue accents, designed to match the blued hands. It's no secret that this is a color combination that Russ and I have long admired in many watches, and is a feature that had never been seen before on a Nomos watch. The lume signature is also unique to our watch, with blue luminescent tipped hands color-matched to the lume on the 7 and 5 markers (different than the green used on all the rest of the markers, subtly celebrating our 75th anniversary). See a lume shot and read more about the Tangente Topper Edition here.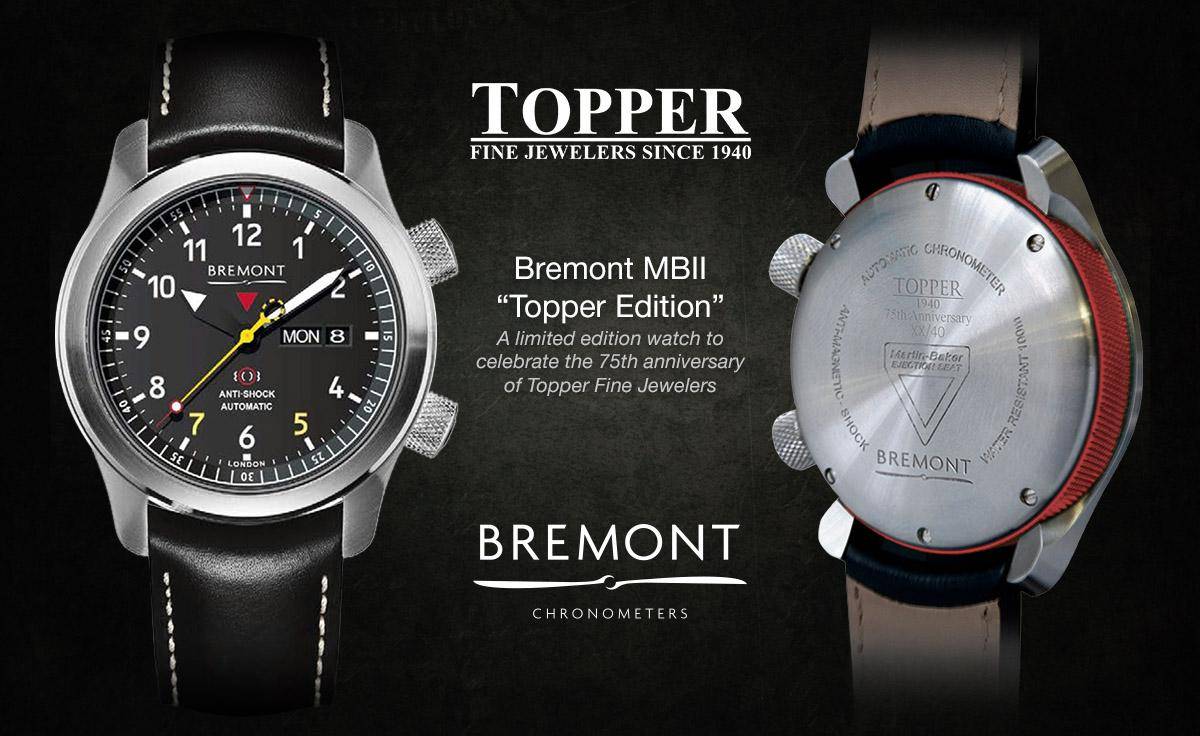 Bremont MBII Topper Edition
What Makes It Unique:
Introduced in 2015
Limited to 40 pieces (sold out)
Unique anodized barrel color and exclusive lume signature.
A portion of the proceeds from each watch went to the UCSF Helen Diller Family Comprehensive Cancer Center.
Bremont was the second brand to join our 75th anniversary celebration in 2015. Russ and I both knew immediately that we wanted to create an exclusive Bremont timepiece in the spirit of the MBI–Bremont's signature pilot watch, which can only be purchased by pilots who have been ejected from an aircraft equipped with a Martin Baker ejection seat. To capture the spirit of the watch, the Topper MBII featured the MBI's yellow second hand with a color-matched seven and five on the dial. Instead of featuring the signature red barrel, we used an orange barrel, as it was our favorite and most lively of the barrels available on the MBII.
We thought of this Bremont Topper Edition as a nice compliment to our first Nomos timepiece. This watch has a vivid yellow 5 and 7 marker to express our 75th anniversary, whereas the Nomos Topper Edition has more of a subtle nod to our 75th anniversary, displaying a color change on the lume on the 5 and 7 markers. Read more about the Bremont MBII Topper Edition here.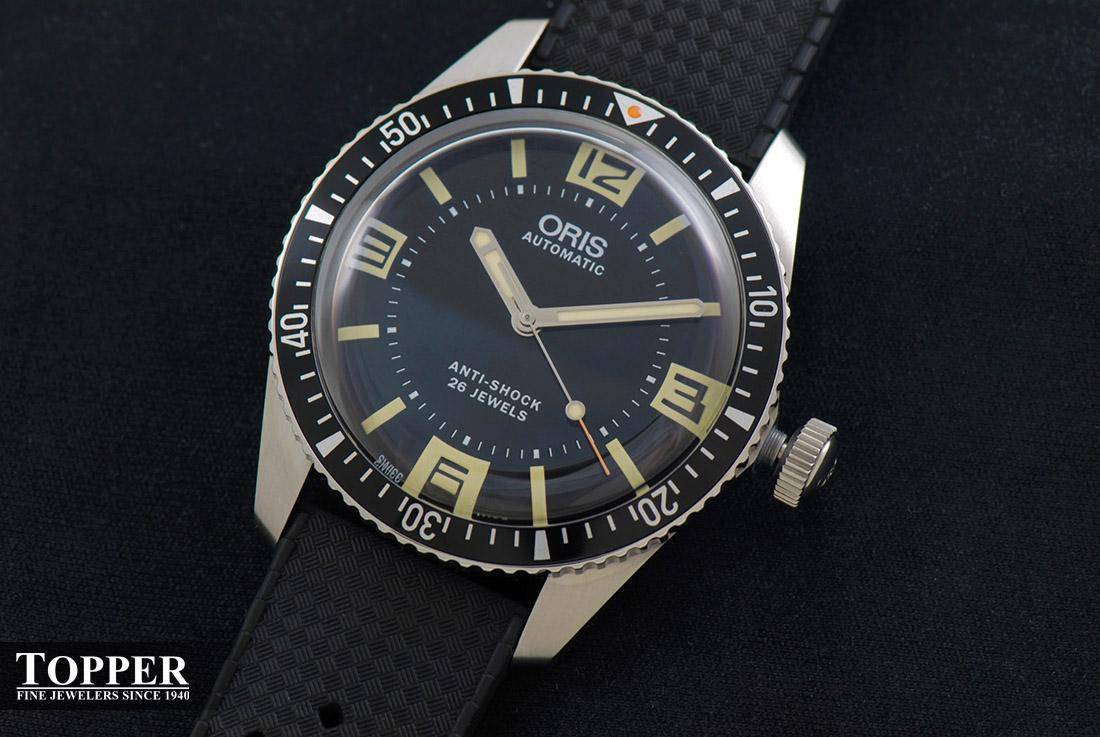 Oris Divers Sixty-Five Topper Edition
What Makes It Unique:
Introduced in 2016
Limited to 100 pieces (sold out)
No-date complication, stainless steel bezel, orange accents on bezel and seconds hand, dial text more accurately matches original, kit includes both rubber strap and bracelet.
When I first saw an Oris Divers Sixty-Five at Baselworld in 2015, the symmetry and quirky mid-sixties design made for a love at first sight, and I immediately began communicating with Oris for the chance of being able to design one of our own. Talks for the creation of that watch began almost immediately after Baselworld of that same year, and really heated up around the time that our first two Topper Edition watches were delivered in November. The Oris Divers Sixty-Five Topper Edition involves similarities that made it stay close to the source material, such as keeping the same logo font and retaining the jewel count on the dial, while simultaneously introducing new elements that were not on the original model.
Our good friend, Eric Singer, was also involved in our design process. Perhaps best-known as the drummer for legendary rock group KISS, Singer is also a prolific watch collector, tastemaker, and judge of the Grand Prix d'Horlogerie de Genève (GPHG), and he also happens to be particularly knowledgeable on vintage dive watch designs. He offered plenty of great design recommendations for this edition, which included changing the bezel pip from white to orange, and changing the tip of the second hand to a faded orange that reminded us of some of our favorite vintage dive watches.
Other features of this watch that strayed from the original design included making it the first dive watch in Oris' history to not include a date aperture. It was also the first 40mm Divers Sixty-Five model to feature a natural steel finish. Both design choices were made to recreate the warm and vintage instrument feel of the original Divers Sixty-Five. We were thrilled with how many people enjoyed our design choices. Read more about the Oris Divers Sixty-Five Topper Edition here.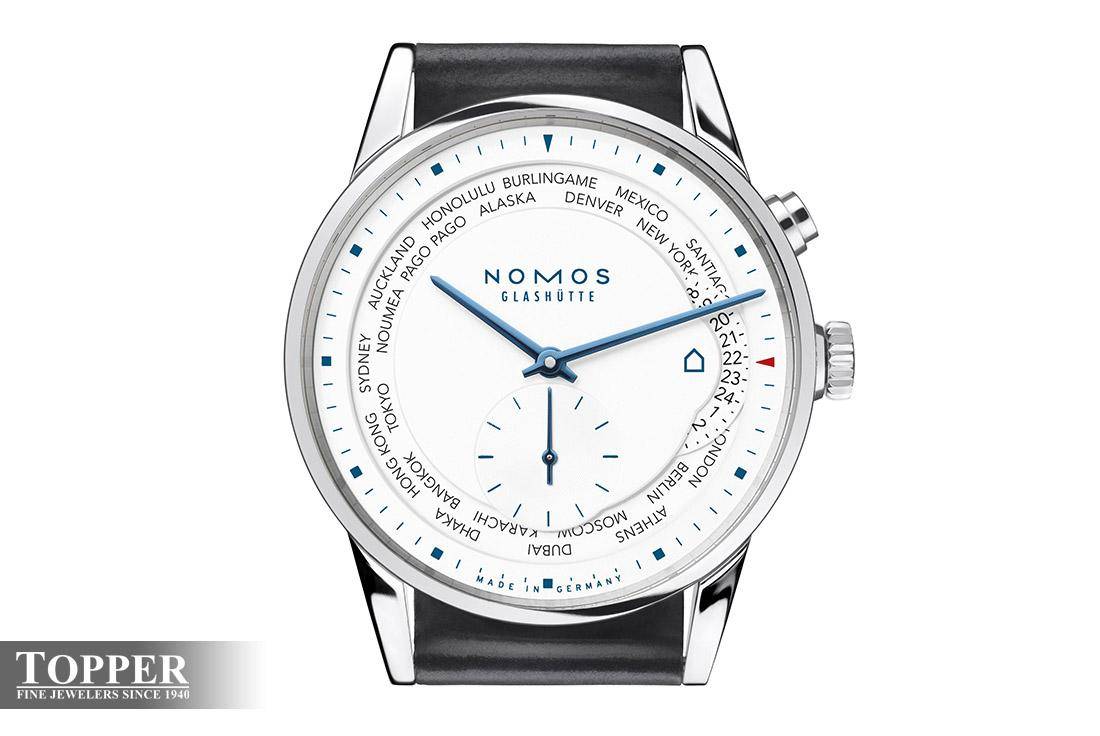 Nomos Glashütte Zürich Worldtimer Topper Edition
What Makes It Unique:
Introduced in 2017
Limited to 30 pieces (sold out)
White lacquer dial, blue hands and dial markers, 'Burlingame' highlighted on the disc of global locations
Topper Jewelers is located in Burlingame, California, also known as the city of trees. A portion of the proceeds from each watch were donated to the Burlingame Department of Parks and Recreation's Tree Replacement Fund for the planting and purchasing of a heritage tree.
Our second collaboration with Nomos came about as many great ideas do: over lunch with a good friend (yes, you Matt!) on Burlingame Avenue. In this particular conversation, we were discussing specific dials that look great in white lacquer (like our original Nomos Topper Edition), while lamenting on the fact that there were so few worldtimers that adopted this aesthetic. While other designs of the worldtimer have put iconic locations from around the world on the dial, we wondered at that same lunch, "What if we put Burlingame on the dial?" It was also to show support for small towns, such as ours, and remind followers of Nomos where Topper Jewelers is located.
After a good many conversations later with our friends at Nomos, the most complicated Topper Edition to date was born: a Zürich Worldtimer with a white lacquer dial, contrasted by bright blue accents. The real challenge with this particular watch was not the addition of 'Burlingame' on the location disc, but getting the white hue of the rotating hour and city discs beneath the dial to perfectly match the distinct deep white lacquer (since the discs themselves could not be lacquer-finished due to the added thickness and weight). Thankfully, we left that particular design challenge to the engineers and watchmakers at Nomos, who, in our humble opinion, knocked this one straight out of Burlingame's beloved Washington Park. Read more about the Nomos Zürich Worldtimer Topper Edition here.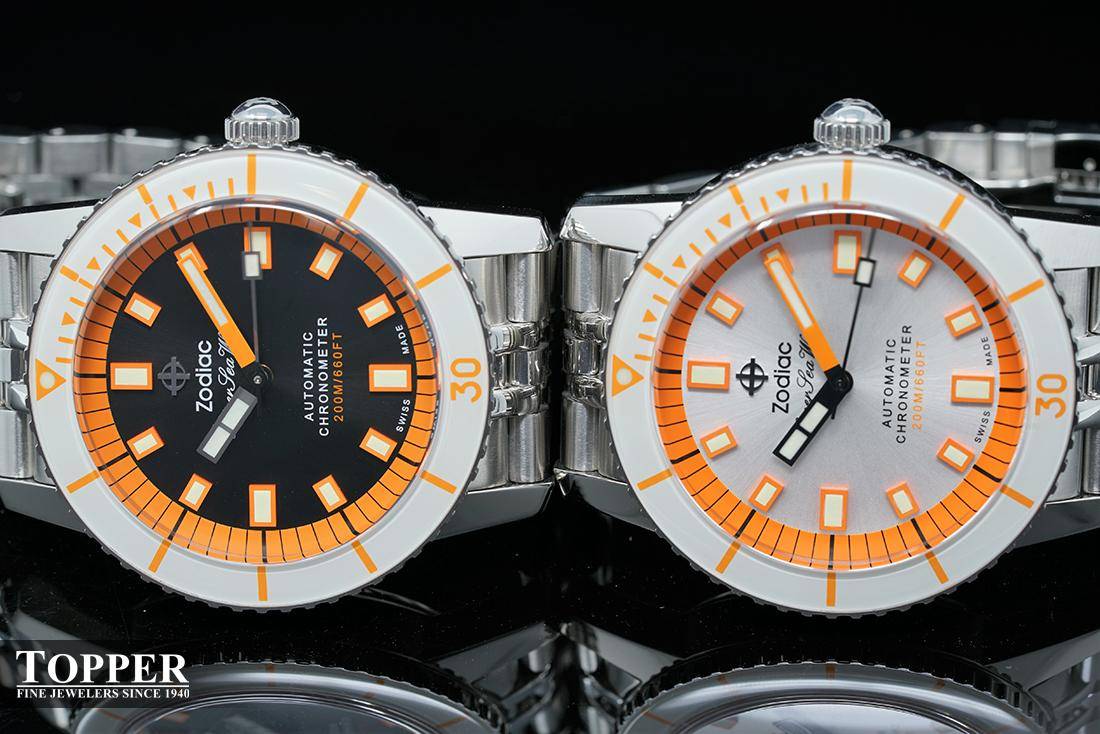 Zodiac Super Sea Wolf Topper Edition
What Makes It Unique:
Introduced in 2018
Two editions, each limited to 20 pieces: ZO9267 & ZO9268 (sold out)
First modern Zodiac with mineral glass bezel and no-date complication, exclusive sunburst dial color combination.
Zodiac is one of Eric Singer's favorite watch brands, and after Eric picked up several Zodiac watches from us, I asked him if he wanted to create some mock-ups for fun. Many conversations later with Zodiac, we were given the opportunity to design our next Topper Edition watch. After we came up with a concept, Zodiac's brand director, T.J. McKnight, gave us the keys to design two short-run 20 piece limited editions. We came up with a vibrant twist on 2017's ZO9265, but in color combinations selected from Zodiac's history that had not yet appeared in a modern Zodiac. Ultimately, the clean, no-date execution, and striking contrast between the orange chapter ring, and the smooth, off-white mineral glass bezel emulating the original vintage Bakelite bezel proved to be a huge hit with watch fans, and both pieces sold out very quickly. Read more about our collaborative process with Eric here.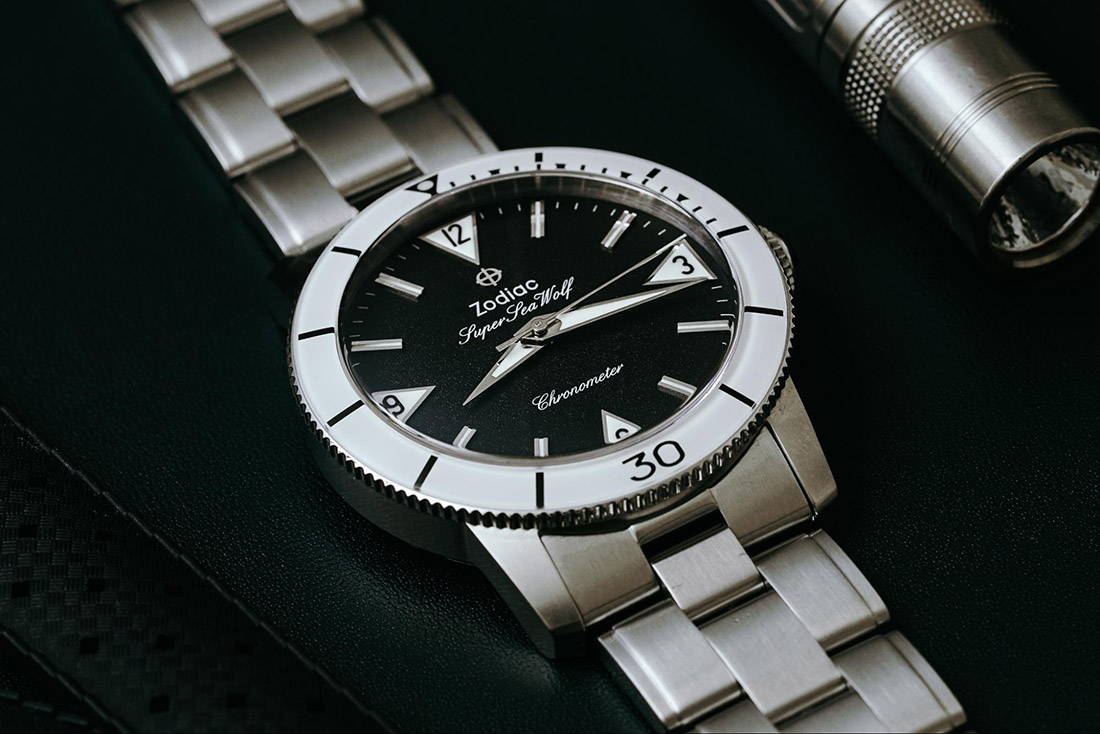 Zodiac Super Sea Wolf Topper Edition Series II
What Makes It Unique:
Introduced in Fall of 2018
Three editions, each limited to 82 pieces: ZO9208 "The White Wolf" (white bezel with flag dial), ZO9273 (blue dial with white 'Rally' bezel), and ZO9272 (black sunburst dial with yellow checkered 'Taxi' bezel)
Each Chronometer-certified piece was carefully modeled after a Zodiac archival counterpart
See exclusive photos of the collection and read Quill & Pad's interview with co-designer Eric Singer right here. Read WornandWound's hands-on with the collection right here.
For our second visit into Zodiac's rich historical archive, once again with the help of our friend Eric Singer, we sought to create a trio of references using Zodiac's compression case and select elements that paid homage to the color and pioneering capability of dive watches in the seventies. The trio was anchored around reference ZO9208, which was quickly nicknamed 'White Wolf,' for its stark white mineral glass bezel, inspired by the bakelite bezels of yesteryear that faded to a 'ghost' white after many years of hard use in the sun. The White Wolf also features a unique textured dial, and vibrant white BG-W9 lume to compliment the faded bezel.
Eschewing the 'flag dial' combination found on the White Wolf are the other two references, which use Zodiac's more common 'shovel' style handset and colorful checkered bezels. On the Rally watches, though the colorful bezels might be the first thing to get your attention, a closer inspection reveals plenty more details – like the chrome oversprayed wordmarks on the blue-dialed ref. ZO9273 – a technique inspired by the chrome lettering on Eric's favorite drum kits. The yellow Rally Zo9272 features a sunburst dial and yellow accent colors that were not on the original. And as we did with our Series I Sea Wolf references, these three watches are all presented with a Swiss chronometer certification, but more importantly – without a date aperture.
Ultimately, all three references are modern interpretations of the rarest known vintage Zodiacs. The more colorful vintage pieces are often referred to by Zodiac Collectors as "roulette wheel bezels" and the two specific vintage watches are nicknamed "The Smurf" and "the Wasp," respectively. Given their relative rarity, we'd never seen all three of them photographed together, so we tasked Zodiac Collector Wristshotsnomatterwhat to shoot the trio of watches that inspired this Seawolf Series II. And as far as we know, this is the only photo of the three vintage watches together.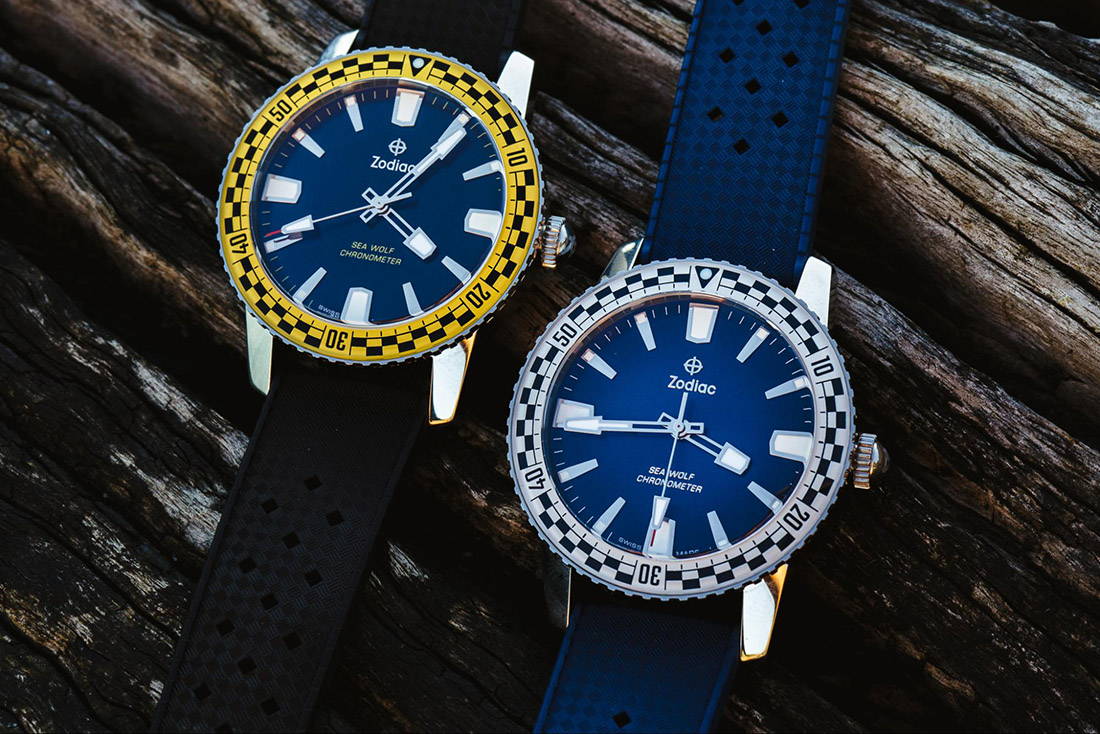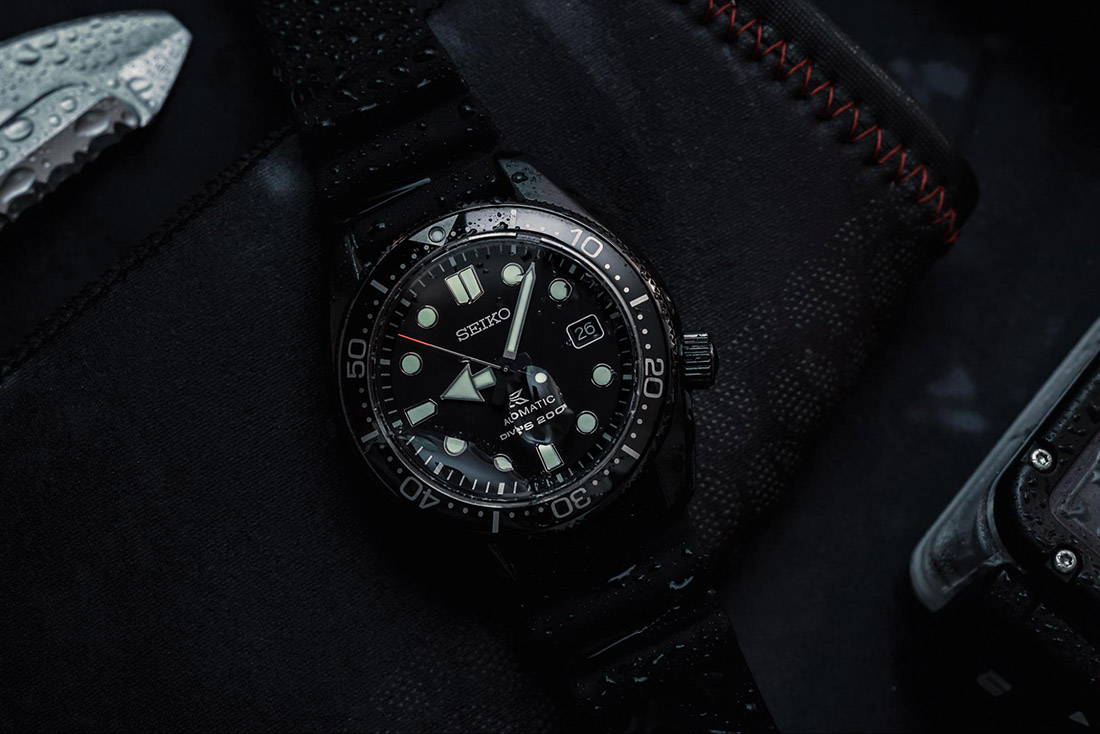 Seiko Prospex SPB107 'Topper Ninja'
What Makes It Unique:
Introduced in 2019
Limited to 500 pieces (sold out)
Exclusive details include: a hard black coating on the case, color-matched date wheel at 3:00, and an orange-tipped seconds hand
See more exclusive photos of the Topper Ninja, and read what Watchonista had to say about its many special details right here.
For Russ and I, choosing a favorite Topper Edition is really hard. The one that has received the most media coverage and attention has been our latest effort: SPB107, designed in collaboration with the team at Seiko USA, which many in the press have dubbed the "Topper Ninja." Using the case footprint and dial architecture of 2018's SPB077 Diver, the watch is an ultra-modern interpretation of the prototypical Seiko tool watch, inspired by the traditions of Seiko's groundbreaking 6159 Hi-Beat Diver from 1968. The case finish is the true differentiating factor of the piece has it features the same mix of high polish and brushed finish that is found on the SPB077 on which it is based. As with other Topper Editions, there's more to explore than just the hard black coating – we've also incorporated smaller details like a color-matched date wheel, and a bright orange-tipped seconds hand which balances the Prospex divers' signature lumed counterweight. As we continue to deliver these watches into the eager hands of collectors, we're proud to have introduced a new reference into the Seiko family that can becontrasted to other fan-favorite "black out" Seiko models such as the 'Darth Tuna' and 'Ninja Turtle' Prospex models.
Laco Flieger Limited: Topper Edition
What Makes It Unique:
Introduced in 2019
Limited to 100 pieces
Exclusive details include: a white lacquer dial, contrasted by 12 heat-blued, applied stainless steel hour markers – the first of its kind for Laco
See more exclusive photos of this Topper Edition Flieger, and read what Worn&Wound had to say in their first-look exclusive right here.
Our eighth "Topper Edition" was designed in collaboration with Laco Watches, to celebrate our new retail partnership. As the first pilot watch in our ongoing Topper Edition series, it is characterized by a crisp white lacquer dial contrasted by heat-blued hands and hour markers – a configuration not previously available from the venerable German manufacture, and a detail that required new manufacturing techniques to achieve. This Flieger also continues a long-running tradition established by earlier Topper Edition watches like the Nomos above, which have exhibited a fondness for white dials and blue detailing.
In every Topper Edition watch, we like to utilize details or design elements that challenge our partners – in this case, it was one of the most iconic names in aviation watches, whose history stretches all the way back to 1925. Thusly, Laco enjoys a long history of heat-blued elements in its Flieger watches – though this detail is usually reserved only for the handset, as it was originally designed to amplify legibility in low light, in an era of pilot watches that pre-dated luminous material like radium, tritium, and the Superluminova we have today. This Topper Edition pays homage to those blued elements and maximizes their presence on the dial through the heat-treating all of the applied steel hour markers. The end result is a perfect match between hands and hour markers, which together appear black or matte blue in low light, then reveal a vibrant flash of color when hit with light – all the while ensuring perfect contrast and legibility in any environment – cockpit or otherwise.
Russ and I feel very fortunate to have been able to work with such distinguished companies in the Topper Editions that have come about so far. As you can imagine, we are continuing to work on projects that we think the community will find engaging, and are incredibly excited about the future!
---
Share this post
---